Small and medium enterprises are faced with a huge challenge. They need to first have the confidence and credibility to generate interest, then generate funding for the development of their products.
Emerging biopharma companies selecting their first lead candidate to take forward into clinical development have a lot to celebrate – but they can also feel like they are looking up at a mountain with many different paths and a sign marked 'success' at the top, but no map to guide them. The route to market is not only high risk and lined with potential pitfalls, it's also a costly and long-term investment. According to a 2014 report from the Tufts Center for the Study of Drug Development, developing a drug through to the market, taking into account the majority of candidates that fail, can cost in the realms of $2.6 billion. Even though small biopharma companies might only be looking as far ahead as clinical proof-of-concept, there's still a hefty investment required.
Small and medium enterprises are faced with a huge challenge. They need to first generate interest, then generate funding for the development of their products. This can mean the requirement for a heart-stopping investment just to reach the next milestone - that means investors, and investors will turn up with a lot of questions before they can feel confident enough to commit.
Being able to answer the investors' questions with confidence, and with responses that are backed up with robust data, will be vital for gaining the trust that you will need to get them on board.
We have found that there are three key components to creating a compelling value story early in development . These are:
Articulating your vision
Choosing the right development path
Demonstrating that your approach has value
This piece, the first of three posts based around our webinar Capturing the attention of investors, will help you begin to articulate your vision.
Translating scientific information into a clinical approach
Preclinical and clinical data plays an important role in setting the strategy for your product – in short, in knowing where you are going. Early planning will help you to shape your program design and subsequently your study design and data collection, with new data at each step confirming your decisions or changing your plans in an iterative fashion. A clearly articulated vision of your product goals will also help you to prioritize and focus limited resources.
The first step is to identify the opportunities and constraints that you're working within, and to understand the factors that are most important to the company. Having a basic understanding of these important variables, informed by data, will form the basis of all future decisions in the product development cycle to market and beyond.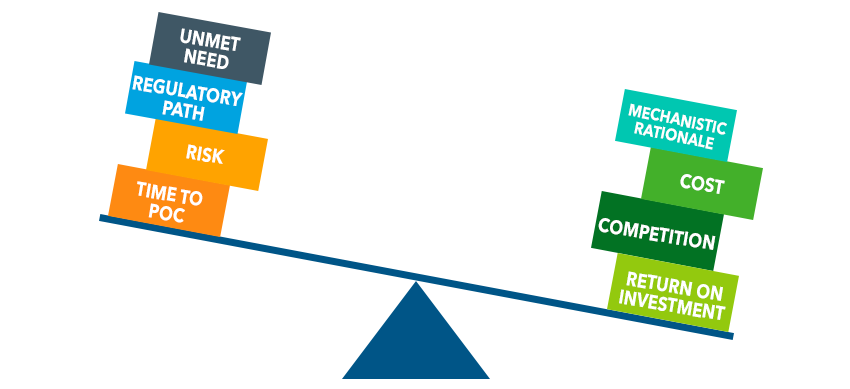 Align opportunities to priorities of the organization and known constraints using a foundation of data to validate the decisions
Prioritizing indications
Lead compounds often have potential therapeutic utility in a variety of different indications. While the first-to-market indication may change during development, dictated by clinical data, market landscape changes and product goals, deciding the initial indication is still important in order to be able to begin a focused research program. These decisions often hinge on the risk, time, cost of development and the value of the final product. The more real-world data that you can glean to support cost, time, risk, and return trade-offs, the more robust and easily defensible your decisions will be.
Creating a target product profile
Once a lead indication has been selected, you now have to consider how to start your clinical development program. Creating a target product profile (TPP) is an absolutely critical development-planning step that will help you to integrate R&D and commercial strategies into a single guiding document. The TPP forms the basis of the commercial value and clinical development strategy required to deliver product value.
The benefit of having a TPP early in the development lifecycle is that you can start your development process with the end in mind. This doesn't mean that you're locked into a single path, just that you are moving towards a goal that fits with the data that you have to date, and a commercial value aligned to that data. Of course, as you get new data, the profile and corresponding value should be re-calibrated.
The target product profile is a strategic document and can help you articulate a variety of desired product attributes, (amongst others):
Indication
Patient population
Dosage form and regimen
Clinical efficacy
Safety
Quality of life needs
Payer needs
Understanding your product goals in these categories can help you plan your clinical development program and clinical trials. It can also ensure that your clinical development program is aligned to your commercial goals and will provide a return on your investment. Creating alternative target product profiles can show different potential market positions and outcomes, and the profile may evolve as more data becomes available, and its corresponding value will evolve along with it.
Understanding competitive profiles
Creating a competitive profile for your drug will help you understand where your drug will fit within the market landscape, and how it will stack up, not only against current competitors, but also those that may hit the market around the time of its launch.
Ideally, you should consider how the unique attributes of your product compare to current and future competitors, and where your product can be differentiated, from the perspective of the patient, physician, provider and payer.
Moving forward
The best time to start articulating your product vision is as early in development as possible. Ideally it should begin before Phase 1 trials start, and then evolve as the profile of your product develops. However, it's never too late. There is always value in creating a target product profile if you don't already have one, at any stage of development, and ensuring that your clinical development program is truly aligned with your commercial goals.
This blog, the first in a series of three, has focused on the need to know where you are going. The next step in capturing the attention of investors, is understanding how you will get there. The second of the three blogs will explore this by looking at how you choose your right development path.
To hear experts talk in more depth, and listen to them answer audience questions, go to Capturing the attention of investors for the recorded webinar, supported by a slide presentation.
More about the Author:
Tara Rheault, Ph.D., MPH
Senior Therapeutic Strategy Director, Drug Development Lead
Tara Rheault has over 16 years of cross-functional leadership experience across drug discovery and development. Dr. Rheault started her career as a medicinal chemist at GlaxoSmithKline where she was the inventor of the now marketed drug Tafinlar. Dr. Rheault then moved on to global project leadership for early development projects, including portfolio and governance management. She then transitioned into late stage clinical development as a clinical program and study leader. Dr. Rheault has continued to build her expertise at IQVIA in the development of integrated commercial and R&D strategies, helping clients articulate their differentiated value story along with a robust plan to achieve their product goals.
Contributor:
Bruce Basson
Senior Scientific Advisor
Bruce has worked as a biostatistician in the pharmaceutical industry for over 20 years across numerous therapeutic areas. One of his areas of expertise is leading development teams through scientific evidence generation plan strategy and optimization workshops. He is also a specialist in technical due diligence and asset value estimation using net present value.